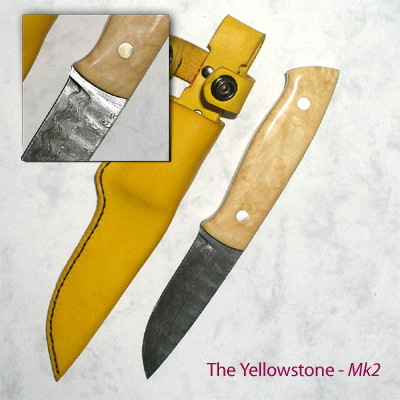 Specifications and Materials

Style: Bushcrafting, Hunting and Collecting.
Blade: AE Damascus Carbon Steel 95 Trapper with a scandi grind
( 95 x 25 x 4mm). Total length 210mm
Handle: Stabilised Box Elder, dyed gold scales with brass corby bolts. Treated with CCL oil and Carnauba wax then highly polished.
Sheath: Western: 3mm vegetable tanned leather, wet moulded to knife, dyed ochre, with a retaining loop and snap, a classic sheath. Treated with Aussie wax to give extra waterproofing and suppleness when used in the hunting environment.
Delivery: 4-8 Weeks from the acceptance of order
Price: £191.25
The above price does not include post and packing. Please read about knives and the law.
To order please go to our online shop