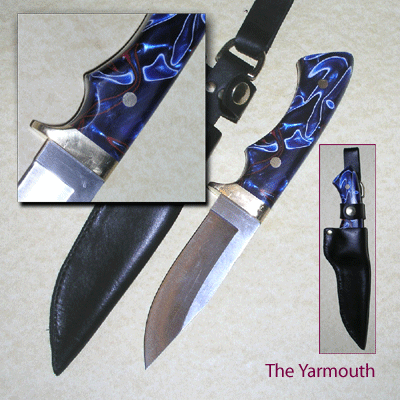 Specifications and Materials
Style: Bushcrafting, Hunting and Collecting.
Blade: Choctaw drop point , D2 steel with a slight concave scandi grind. Dimensions: 220 x 95 x 28 x 3.85 mm.
Handle: 10mm (3/8) x 39mm Brass Bolster and Finger Guard combined. Held in place with a brass rod through the blade, with Blue Ripple Acrylic Scales fixed to blade with 6.35mm Brass Corby bolts then bonded to blade for extra strength. Making this a very well balanced and practical knife, especially with the low maintenance scales.
Sheath: Hand sewn 3mm veg tanned leather wet moulded to fit knife with a brass snap loop retaining strap and two position belt loop with high and low settings, dyed black to compliment the handle, then, when cured and hardened treated with Aussie wax for resistance to moisture. Highly polished for that extra touch of class.
Delivery: 8 Weeks from the acceptance of order.
Price: £168.00 in Damascus £198.00
The above price does not include post and packing. Please read about knives and the law.
To order please go to our online shop