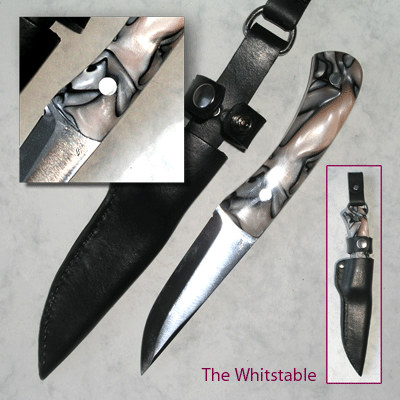 Specifications and Materials
Style: Hunting and Bushcraft Work
Blade: 100 x 25 x 3mm Eklund Falcon Fultang, Scandi Grind, Stainless AEB-L Steel. Total length 200mm.
Handle: Oyster Swirl 10mm Acrylic Scales held in place with Stainless Steel Corby Bolts and slow setting Epoxy resin. Sanded and tapered in many stages. There is no need for polishes this finish will last for a long time, but has still been waxed to achieve a very high finish.
Sheath: 3mm veg tanned leather, hand sewn and wet moulded to fit exactly the shape of the handle. A double two position belt loop that has a knife retaining strap with a Nickel snap to hold the knife in place, preventing loss when engaged in field activities. Dyed black to match the handle and treated with Aussie wax to give suppleness and some protection against moisture.
Delivery: 4 - 8 Weeks from the acceptance of order
Price: £143.00
The above price does not include post and packing. Please read about knives and the law.
To order please go to our online shop