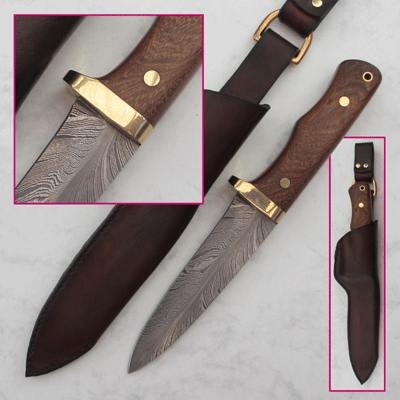 The Partridge Feather Hunter
A great looking knife that can perform all tasks.

DIMENSIONS AND SPECIFICATIONS

Blade: Length: 125mm, Total length: 250mm, Thickness: 4.4mm, Layers: Special Feather Damascus 172mm, Grind: Scandi with slight secondary bevel.

Handle: EHK Brass Radius 3/8inch Brass Bolster pinned through blade, Partridge Wood Scales, Brass Corby Bolts and Brass Lanyard Tube. Treated with CCL oil and Carnauba wax then highly polished. Supplied with a Lanyard Cord.

Sheath: Western Style. Hand sewn 3mm Veg tanned leather wet moulded to give a very good snap fit, with "D" ring and belt loop, treated with Aussie Wax to give a deep shine that enhances the leather.

Delivery: Ten Weeks from the acceptance of order.

Price: £235.00
The above price does not include post and packing. Please read about knives and the law.
To order please go to our online shop