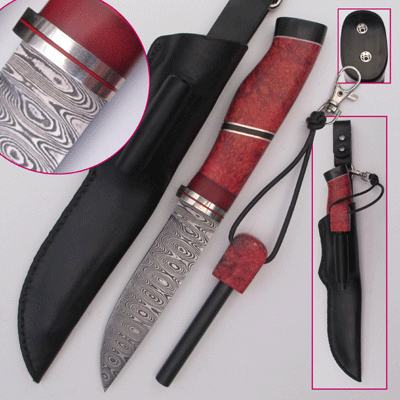 The NEW Folkestone Mk4 Hunting and Bushcraft Knife
Specifications and Materials
Style: Bushcrafting/Multi-purpose.

Blade: Very special EnZo Tundra AE Damascus 110mm x 27 with a convex grind.

Handle: Stabilised and pressure dyed Red, Box Elder Burl with fabulous colouring and intricate graining, special double nickel silver ferule with finger guard, black cross cut vulcanised fibre divider with nickel silver flanks, finished off with a Water Buffalo cap and and two Mosaic Pins, highly finished with deep shine using CCL Oil.

Firesteel: Medium: 65mm x 8mm comes with its own lanyard, mini swivel clip to hold it onto the D Ring of the sheath and the top is made from the same wood as the handle and is well contoured, making it very easy to use.

Sheath: Western style, moulded to fit knife with special firesteel sleeve, "D" ring and belt loop, dyed black treated with Aussie waterproofing wax to protect this unique knife.

Delivery: 10 weeks after acceptance of order.
Price: £288.00
Above price do not include post and packing. Please read about knives and the law.
To order please go to our online shop