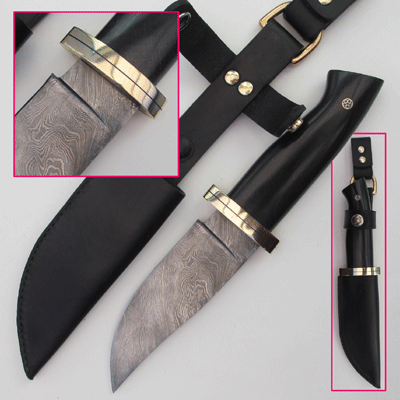 The Moose Hunting Knife
Specifications and Materials
Style: Hunting and Bushcraft work.

Blade: English Handmade Knives mini Bowie Blade 128 x 37 x 5mm. Flat Grind with small bevel.

Handle: Double Brass Guard with a thin blue liner between. Stabilished Birch End Grain and pressure dyed black, with a 1/4" Mosaic Pin fitted the the top that when exposed to strong day light it will glow blue. The wood has been triple polished with CCL Polish, the buffed up using Carnuba Wax.

Sheath: Hand sewn Western Style 3 mm veg tanned leather wet moulded to fit knife, with double loop belt position, dyed black and has been treated with Aussie waterproofing wax.

Delivery: AVAILABLE NOW ...........or 12 Weeks from the acceptance of order.
Price: £466.00
Above price do not include post and packing. Please read about knives and the law.
To order please go to our online shop