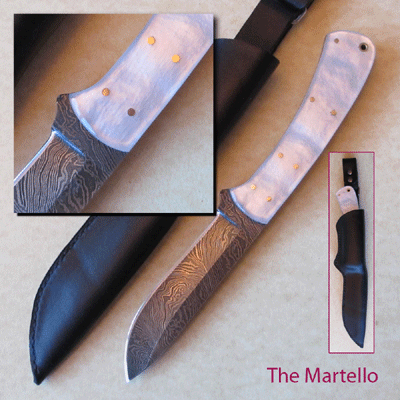 Specifications and Materials
Style: Hunting, Bushcrafting and Collecting
Blade: From our exclusive Damascus Range.
Sentinel Fultang 97: Length: 97mm. Overall length: 215mm. Blade Thickness: 4.5mm
Blade Material: Damascus Random Pattern. 1084 and 15n20 in simple double high carbon nickel steel having a hardness of 58-60 after tempering. Layers: 264
Grind: Scandi with a secondary bevel (Nice and sharp).
Handle: Low maintenance Imitation Oyster Shell with Red 0.8 liners, 2mm Brass fixing pins and Brass Lanyard. Polished up with Carnauba wax.
Sheath: Hand sewn wet moulded 3mm veg tanned leather with a two position belt loop for easy movement. Dyed black to compliment the knife, then treated with Aussie wax to give added protection against the elements.
Delivery: 4 - 8 Weeks from the acceptance of order
£183.00
The above price does not include post and packing. Please read about knives and the law.
To order please go to our online shop