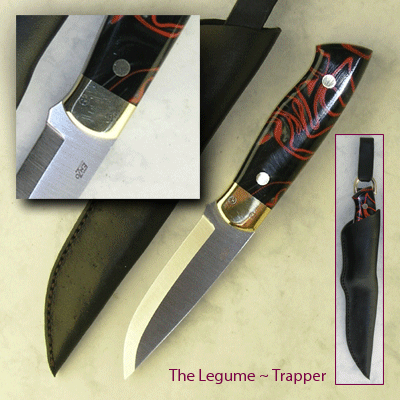 Specifications and Materials
Style: Hunting and Bushcraft work
Blade: EnZo Trapper 95 S30V Stainless Steel, scandi grind to zero, satin finish, dimensions of blade 95mm x 25mm x 3.6mm total length 210mm. (Super sharp)
Handle: Special radius EHK 6.35mm Brass Bolsters, with 4mm Brass Mosaic retaining Pins with Acrylic Licorice Scales held in place with 6.35mm Brass Corby Bolts, all elements bonded onto blade with slow setting Epoxy Resin.
Sheath: Hand sewn 3mm veg tanned leather, wet moulded to fit knife then dyed black with a "D" ring and a two position belt loop for trekking and hunting, carefully polished with Aussie wax which provides suppleness and weather proofing.
Delivery: 6-8 Weeks from the acceptance of order.
£190.00
Above price do not include post and packing. Please read about knives and the law.
To order please go to our online shop