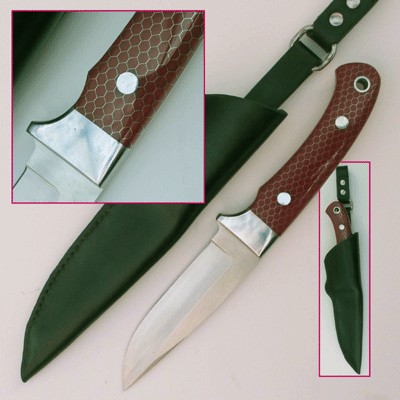 The Kerry Hunting Knife
Specifications and Materials
Style: General purpose and hunting.

Blade: Cudeman 440 Stainless Steel 150H with Stainless Bolsters, Scandi Grind with a hollow bias and fine secondary bevel.

Handle: C-Tek Resin colured red with expanded Aluminum Cells. Nickel Solver Corby Bolts and Lanyard Hole.

Sheath: Western Style, 3 mm veg tanned leather, wet moulded to fit dyed mid black.

Delivery: AVAILABLE NOW or if out of stock 8 Weeks from the acceptance of order.
Price: £185.00
The above price does not include post and packing. Please read about knives and the law.
To order please go to our online shop