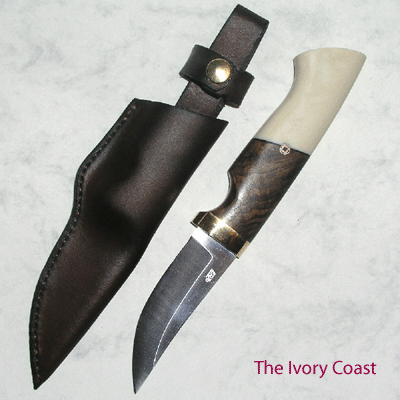 Specifications and Materials
Style: Hunting and Bushcrafting
Blade: Enzo Ursus 90 scandi grind with slight secondary bevel. Steel: Carbon O1 Tool grade. Dimensions: 3.5 x 25 x 90mm. Total length: complete knife 212mm.
Handle: 8mm solid brass bolster, Turkish Walnut, black 0.8mm vulcanised fibre spacer and imitation Ivory with special mosaic pin. Incorporating a finger indentation for a good firm grip in all conditions. Finished with CCL knife handle polish and buffed up with Carnuba wax.
Sheath: 3mm veg tanned leather, wet moulded to fit exactly the shape of the handle. The belt loop has a knife retaining strap with a brass snap to hold the knife in place, preventing loss when engaged in field activities. Dyed dark brown to match the handle and treated with Aussie wax to give suppleness and some protection against moisture.
Delivery: 4 - 8 Weeks from the acceptance of order
Price: £195.00
The above price does not include post and packing. Please read about knives and the law.
To order please go to our online shop