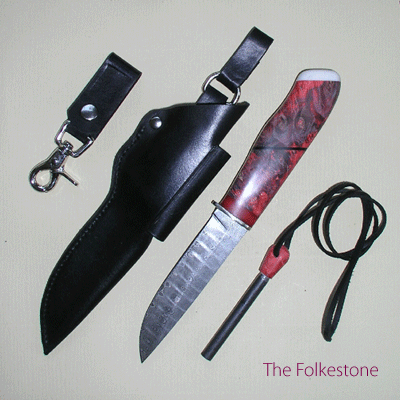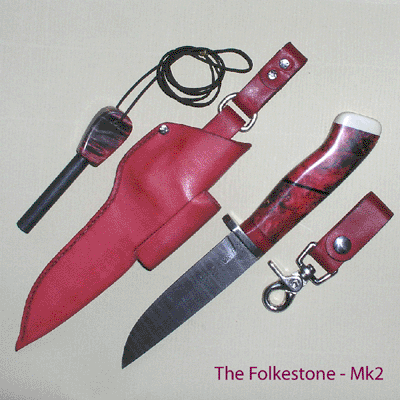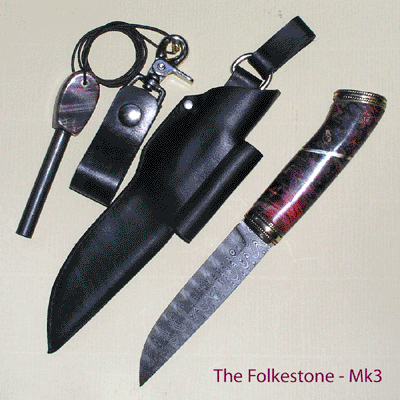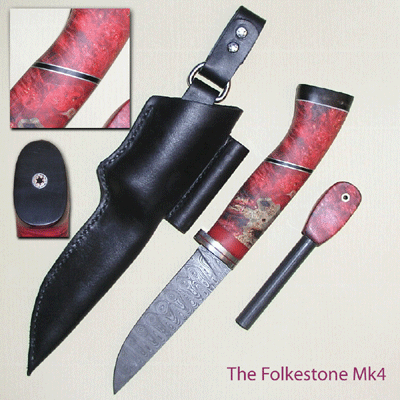 Specifications and Materials
Style: Bushcrafting and Multi-purpose.
Blade: Very special EnZo Tagia AE Damascus 125mm x 27.
Handle: Stabilised Box Elder fabulous colouring with that intricate graining, nickel silver ferule with small finger guard, black cross cut vulcanised fibre divider, finished off with a white Elforyn cap, highly finished with deep shine using CCL Oil.
Fire stick: Everest: 65mm x 10mm comes with its own lanyard and top made from same wood as handle.
Sheath: New style of western sheath, moulded to fit knife with special firesteel sleeve, "D" ring and belt loop, dyed black treated with Aussie waterproofing wax to protect this unique knife. As an added bonus supplied with knife is easy on belt loop that has an open clip for retention of firesteel.

Delivery: 4-8 Weeks from the acceptance of order. If this is out of stock please contact me.
Price: £265.25
The Mk2 version has exactly the same specifications as above but has a bigger finger guard and has a cranberry coloured sheath. Delivery: 4-8 Weeks from the acceptance of order. If this is out of stock please contact me.
Price £265.75
The Mk3 version has exactly the same specifications apart from a nickel silver cross cut divider and the ferule and end cap is hand made using bronze and are quite rare. Delivery: 4-8 Weeks from the acceptance of order. If this is out of stock please contact me.
Price £277.25

The Mk4 version has new ferule finger guard design which is thicker and has a red fiber spacer integrated into it. The handle is divided by a fine nickel silver double spacer and finished of with a water buffalo end cap with a mosaic pin to add extra style. Delivery: 4-8 Weeks from the acceptance of order. If this is out of stock please contact me.
Price £328.25

The above prices do not include post and packing. Please read about knives and the law.
To order please go to our online shop