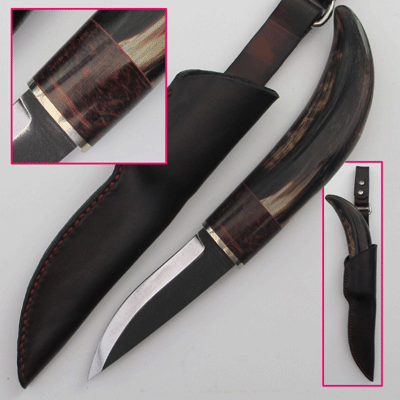 The Black Beaver Hunting Knife
Specifications and Materials
Style: Hunting/Skinning/Bushcrafting/Multi-purpose.

Blade: EnZo Beaver 95 Nordic, Carbon Steel, Scandi Grind 95mm x 25mm x 3.6mm.

Handle: Nickel Silver Bolster with a Snakewood and thin Red Fibre spacer with remaining handle taken from a Water Buffalo Tip. Treated with CCL oil and Carnauba wax then highly polished.

Sheath: Western style, wet moulded to fit., with red stitching, dyed dark brown and treated with Aussie conditioning wax for additional waterproofing.

Delivery: Eight weeks from the acceptance of order.
Price: £165.00
The above price does not include post and packing. Please read about knives and the law.
To order please go to our online shop