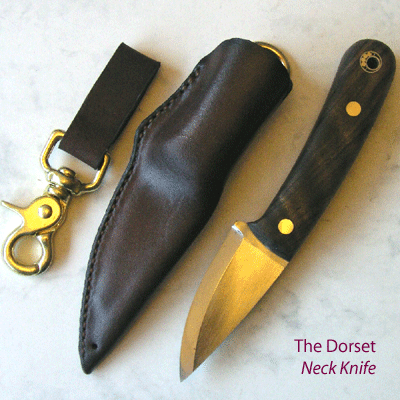 Specifications and Materials
Style: Bushcrafting and Hunting
Blade: Dorset Skinner O1 Tool Steel with a Scandi Grind. Blade length 73.3mm x 3mm. Total length 172mm.
Handle: Turkish Walnut scales fixed to blade with Brass Corby Bolts and Epoxy Resin and Mosaic Lanyard tube 3/8 inch LMT-A8
Sheath: 3mm veg tanned leather hand sewn and wet moulded to fit knife, dyed to compliment the knife handle with a simple "D" ring for neck cord. Comes with a belt loop and trigger snap which gives the user the option of wearing it on a belt. Both items have been then treated with Aussie Wax providing suppleness and waterproofing.
Comes with relevant lanyard cords
Delivery: 8 Weeks from the acceptance of order
Price: £175.00
Above price do not include post and packing. Please read about knives and the law.
To order please go to our online shop