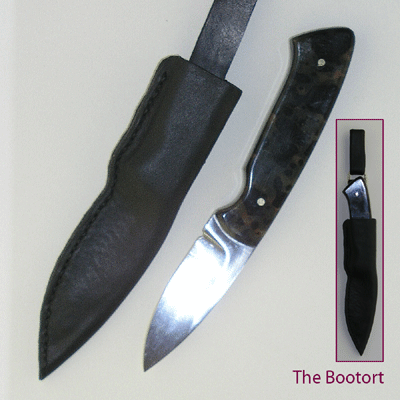 Specifications and Materials
Style: Hunting
Blade: American Boot blade. Dimensions 70 x 2.5 x 165mm. AUS-8 Stainless Steel, Mirror finish, High Scandi slight hollow grind.
Handle: Acrylic Imitation Tortoise Shell. 6mm - Total thickness including steel 15mm. Held in place with brass pins and bonded onto blade with slow setting epoxy resin.
Sheath: Hand sewn and wet moulded 3mm veg tanned leather with a two position belt loop and snap fit, dyed black to compliment the knife handle. Polished up with Aussie Wax to provide waterproofing and suppleness.
Delivery: 6 Weeks from the acceptance of order.
£93.00
The above price does not include post and packing. Please read about knives and the law.
To order please go to our online shop