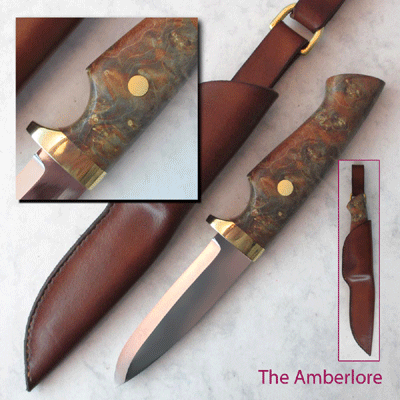 Specifications and Materials
Style: Hunting, Bushcrafting and Collecting.
Blade: From the Dorset Woodland Range.
The Forester O1 Scandi Grind Satin Finish. Blade length 100mm overall length 218mm.
Handle: Stabilised Box Elder Burl double dyed amber and black with our 10mm special brass bolster and finger guard combined, with a 5/16 Bull bolt retaining pin. Treated with CCL oil and Carnauba wax then highly polished.
Sheath: Hand sewn wet moulded 3mm veg tanned leather with a two position belt loop for easy movement. Dyed Tan to compliment the knife, then treated with Aussie wax to give added protection against the elements.
Delivery: 4 - 8 Weeks from the acceptance of order.
£176.00
The above price does not include post and packing. Please read about knives and the law.
To order please go to our online shop